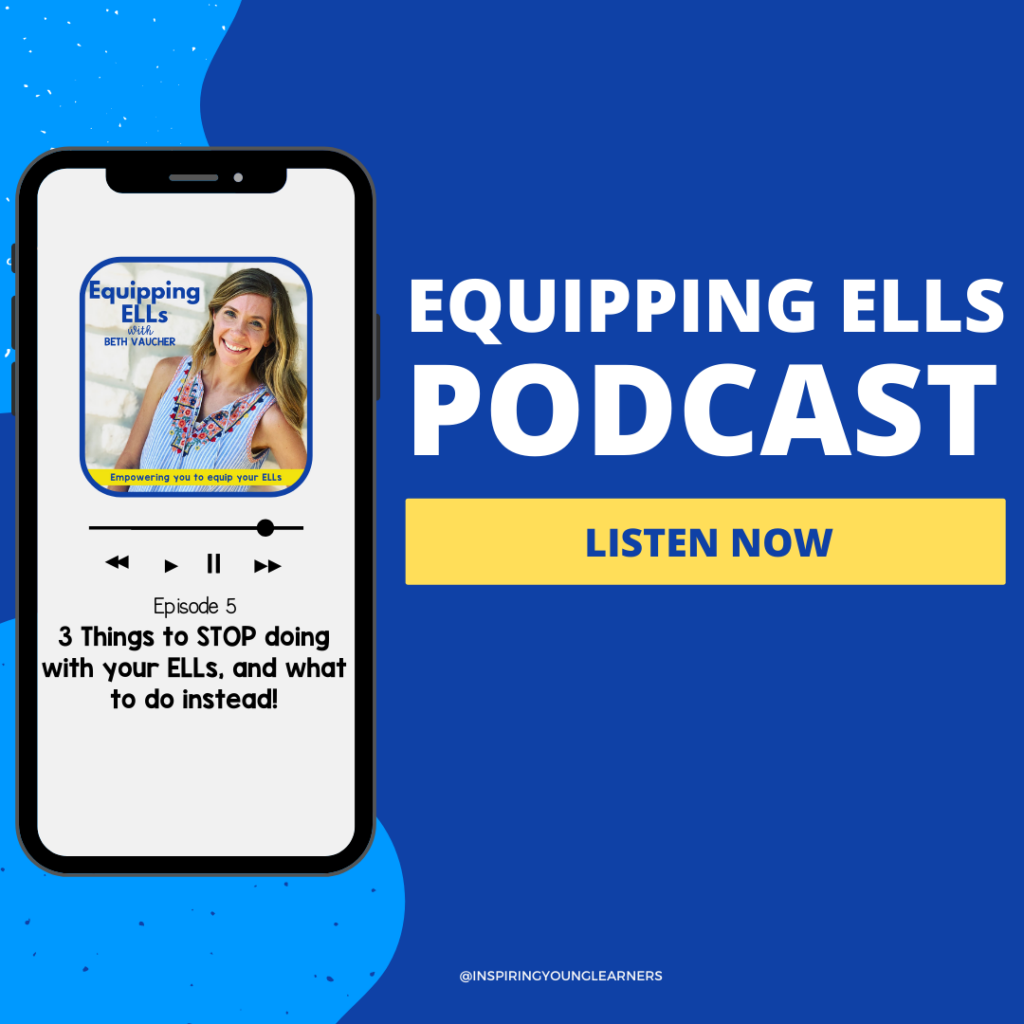 Click below to hear the 3 things to stop doing with ELLs:
Whether you are an ESL teacher or homeroom teacher, you're juggling a lot of things and are doing your best to support your ELL students. Sometimes the lines can get blurry when it comes to exactly what that support should look like. 
Specifically, there seems to be a lot of confusion around what ELLs need and what is not really that beneficial to them. Some of your go-to strategies, even with the best of intentions, could actually be hindering their English language journey. For example, if you're working with newcomers, you might immediately think that you have to translate everything into their native language. In reality, that's not the case. While there are exceptions to this, we want students to be immersed in the language of their classroom.
If you're feeling unsure as to what you should or should not be doing with your ELLs, I'm going to help clear things up. I'll share 3 things to stop doing to support your English Language Learners, as well as what to do instead. These strategies will help your newcomers acclimate to life in your classroom, save you planning time, and increase student engagement
Topics discussed in this episode:
Best practices to support our English Language Learners
When to use a newcomer's native language and when to use English
How to use peers who have the same native language 
Examples of English "survival words and phrases"
Why you should be reusing your existing materials instead of reinventing the wheel 
Related resources:
Related episodes and blog posts:
Connect with Beth:
More about Equipping ELLs:
We all know that teaching isn't easy, but it doesn't have to be this hard. Equipping ELLs is a podcast for both ESL specialists and homeroom teachers who are looking for effective and engaging ways to support their English Language Learners without adding to their endless to-do list. Tune in each week to hear tips, strategies, and inspirational stories that will empower you to better reach your ELL students, equip them with life-long skills, and strengthen relationships with colleagues and parents.
Your host, Beth Vaucher, is the founder of Inspiring Young Learners. She is an ESL certified homeroom teacher with over 10 years of experience teaching in the US and internationally. Her background of M.Ed in ESL and Curriculum and Instruction combined with her experience has led her to develop a bestselling newcomer curriculum that has sold in over 90 countries around the globe. She brings a different perspective to teaching ELLs from her years teaching and living abroad and working with ELLs from around the world. You will walk away from each episode with the ideas and tools you need to transform your experience as a teacher and cultivate a thriving and welcoming environment for your ELL students.